Alum Success Story: Fidelia Igwe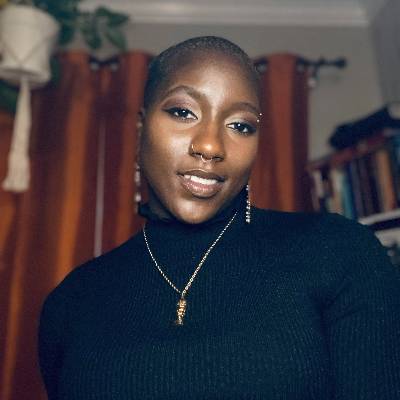 As an interdisciplinary major, I knew I would still be able to explore my interest in English, Politics, and History but through a lens that I felt most connected to and moved by.
Why did you decide to pursue a BA in African American Studies?
I often tell folks that African American (AFAM) Studies chose me. I started my collegiate journey as a double major in Political Science and English with a minor in Arabic. I took my first AFAM class in the fall of 2012 with Dr. Dzokoto. It was in this class that so many of my lived experiences began to make sense, so many questions I didn't know I had, were answered. As an interdisciplinary major, I knew I would still be able to explore my interest in English, Politics, and History but through a lens that I felt most connected to and moved by. I changed my major in the spring of 2013 and after spending many of my undergraduate days in Grabriel's House, bouncing between the offices of some of my favorite professors, I realized the biggest reason I'd committed to AFAM Studies, the community. At the time we were a small department but the investment my professors had in me as a student was unmatched. To this day, I give much thanks to Dr. Guy for being one of my biggest inspirations as a Black Studies Practitioner.
What year did you graduate from VCU?
I graduated from VCU in May of 2015.
What have you done since graduating? What are some of the accomplishments that you are most proud of?
After graduating in May of 2015, two months later I moved to Bloomington, IN to begin my Master program in African American and African Diaspora Studies. I spent the next two years completing my degree and upon graduation moved to Los Angeles, CA. With a desire to work with students interested in higher education, I began working at Jordan High School in Watts, CA. I also had the opportunity to serve as a Trainer with The Posse Foundation, Los Angeles and in October of 2020, I relocated back to my home city, Washington, DC. I am currently the Associate Director of College and Career Access for a local charter network in Northeast, Washington, DC. AFAM Studies really shaped my professional trajectory. I have so much more clarity on the realities in which my students face as a result. When asked the question "Who am I?" I always include in my response that I am Black Studies Practitioner and one of my proudest accomplishments exemplifies this. I recently started my own Diversity, Equity, and Inclusion Consultancy called Equitable Minds, LLC. My team and I work with our clients assisting them in working towards cultivating environments that are community driven, rooted in equity, care, justice, and understanding.
What is the most valuable thing you learned while studying African American Studies, and how have you used it in your career or post-bachelor education?
One of the most valuable things I learned while studying African American Studies is that advocacy for oneself is the start to advocacy for others. I reflect on the confidence I have in myself navigating my academic, professional, and personal spaces and it is because AFAM Studies taught me how to be honest, no matter how much discomfort honesty may cause. I am honest about what I need to thrive, honest about what my students need to thrive, and I am honest about what the communities I belong to need to thrive.
Why should students consider African American studies as a major?
I think there's so much confusion around what students of African American Studies are studying and the answer is always everything. AFAM majors study business, health, politics, education, law, engineering, philosophy, literally everything (so go ahead and be a double major!). AFAM Studies provides you with a world view, one that really opens up a part of your critical thinking that I don't believe a student would receive if they do not major in it!