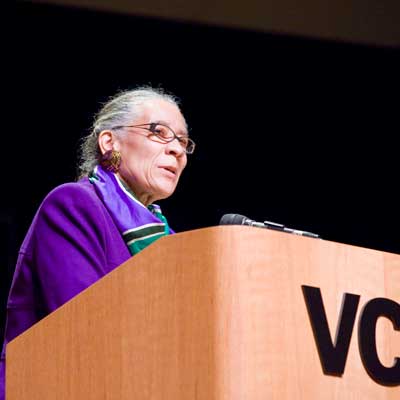 2000s
In 2003, SCHEV and VCU's Board of Visitors agreed to offer the first standalone major in African American studies. VCU became the second school in Virginia to offer a Bachelor of Arts in African American Studies. Majors earned 120 credits in African American studies from a wide variety of offerings. The Department of African American Studies celebrated this event with guest lectures, community events and a PBS series titled "Race: The Power of an Illusion."
Appointed director in 1998, M. Njeri Jackson, Ph.D., received a grant from the Virginia Foundation for the Humanities and Public Policy. VCU faculty in African American studies examined representations of African Americans at six presidential sites in Virginia. She also took students every year to the Olive Harvey Annual Black Studies Conference.
Students remembered Jackson, who died in 2010, as an inspiring administrator, educator and thinker.
Shawn Utsey, Ph.D., became chair of the department in 2007.