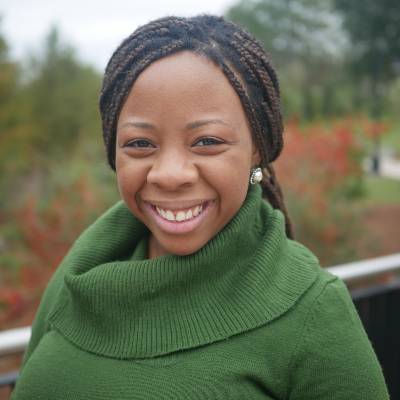 Keandra Davis
Graduate Research Assistant
(786) 505-7004
Kearney House, 921 W. Franklin St., room 307
Education
MPA., Florida State University, 2020
B.A., African-American Studies, University of Florida, 2016
Research Interests
Housing Policy
Affordable Housing
Gentrification and Community Preservation
Wealth Inequality
Neighborhood Poverty
Economic Segregation
Homeownership
Economic Development
Social Equity
Select Publications
Zuk, M., Bierbaum, A. H., Chapple, K., Gorska, K., & Loukaitou-Sideris, A. (2018). Gentrification, displacement, and the role of public investment. Journal of Planning Literature, 33(1), 31-44.
Rothstein, R. (2017). The color of law: A forgotten history of how our government segregated America. Liveright Publishing.
Hall, M., Crowder, K., Spring, A., & Gabriel, R. (2018). Foreclosure migration and neighborhood outcomes: Moving toward segregation and disadvantage. Social science research, 70, 107-114.
Gibson-Davis, C., & Hill, H. D. (2021). Childhood wealth inequality in the United States: implications for social stratification and well-being. RSF: The Russell Sage Foundation Journal of the Social Sciences, 7(3), 1-26.
Park, K. A., & Quercia, R. G. (2020). Who lends beyond the red line? The community reinvestment act and the legacy of redlining. Housing Policy Debate, 30(1), 4-26.
Affiliations
National Forum for Black Public Administrators, 2022-Present
Street Philosophy Institute, Boston University, Research Scholar, 2022-Present
Democratic Women's Club of Florida, 2022-Present
American Society for Public Administration, 2020-Present
New Leaders Council, Fellow, 2021
Awards
L. Douglas Wilder School of Government and Public Affairs, Research Travel Grant, $300, 2022
Virginia Commonwealth University, Research Travel Grant, $300, 2022
Congressional Black Caucus Education Scholarship, $1200, 2019-2020
Links
Commitment to African American Studies
The aim of Virginia Commonwealth University's African American Studies (AFAM) department is to explore, impart, and resolve knowledge that contributes to positive social change. Davis wholeheartedly supports this mission of fostering a dialogue that connects students, faculty and the surrounding community to the African American experience and how collaboratively we can build stronger communities.
In 2016, Davis received her bachelor's degree in African American studies from the University of Florida. She had the privilege of taking a myriad of courses on themes ranging from the foundational African diaspora to contemporary prevalent community issues and politics raised in African American studies. In these courses, she was provided with the opportunity to be exposed to the true history of enslaved Africans, the Black experience, and many pertinent social issues that society is currently unveiling today. These courses often revealed the underpinnings of living in a partial democracy, a justice system formed to eradicate and afflict anguish on African Americans, and how we navigate these spaces as a community.
Davis' experience in African American studies and extracurricular involvements in Black culture framed my passion and pursuits to use research, policy, and scholarship to drive and build advanced communities and outcomes for the African American community. As an AFFAM Affiliate member, she will provide a unique skillset that merges the Black experience with public policy to address social issues impacting Black communities.
Davis is committed to using scholarship and research to address significant inequities that disproportionately impact underserved Black communities. As descendants of the black diaspora, it is imperative to continue contributing to Black culture, Black history, and black excellence through scholarship and research. These skills educate the community, advance the Black experience and inform policy.
These reasons exude Davis' adoration for African American studies, similar to the Sankofa adage "Go back and fetch it." If we don't continually educate our communities on our foundations and existence, nor use our knowledge to strengthen our communities, we won't see the outcomes nor move towards the future that we all desire. Davis' commitment to African American studies continues to serve as the driving force behind my why, and she looks forward to collaborative work with the AFAM Department.